Great Builder Relationships
Posted by Paula Thieneman-Bates on Wednesday, September 10, 2014 at 12:46 PM
By Paula Thieneman-Bates / September 10, 2014
Comment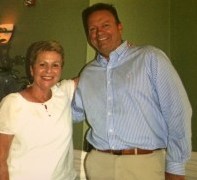 Always a pleasure to work with great area builders, such as Pete Thieneman, who consistently provides quality built homes and services to the Louisville area.
Pete is one of the owners of Clifford Thieneman Company. Since 1963 Clifford Thieneman Co. has been building quality homes and providing homeowners with a building experience that is based on honesty, extreme quality, and solid construction practices. Oh yeah, and their houses are gorgeous as well.
Building a home can be stressful task for some. I work hard to help it not be stressful but as smooth as possible. One way I do that is to have a good relationship with many of the top areas builders. I work closely with the buyer to ensure their best interest through out the process. Which means working closely with the builder from the planning stage to the final walk through to ensure the buyer gets the home of their dreams. Contact me today to learn more about building with Pete and other area builders.